UUS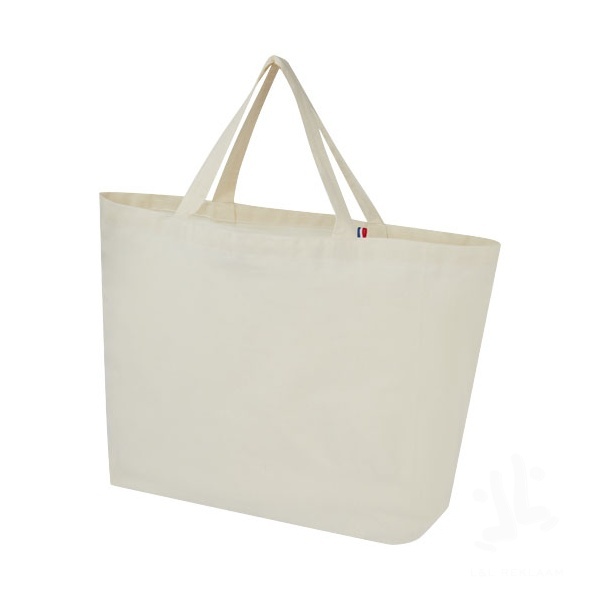 Zoom
Cannes 200 g/m2 recycled shopper tote bag
SKU:
120696
Brand:
Unbranded
Qty:
19112
Prices do not include VAT.
For smaller quantities, feel free to ask for a price quote! We do not deal with retail sales.
The cost of applying the logo is usually added to the product price, which we will provide separately upon request.
Price:
9,88 €
For the quantity of 100+
This large capacity tote bag is made with the finest, 100% recycled materials. It is constructed to use in everyday life, and suitable to carry around heavy books or groceries. The 200 g/m² recycled cotton/polyester blend ensures durability and reliability, giving the bag a resistance of up to 14kg weight. The yarns originate in Asia, but the weaving, spinning and manufacturing is all done in France.
| | |
| --- | --- |
| co2footprint | 0 |
| Eco | Jah |
| Material | 45% Recycled cotton and 55% Recycled Polyester |
| Product measurements/size | 38 x 18 x 43,5 cm |
| Packing info | 120 |
| Image | Method | Print placement | Print height | Print width | Print diameter | Max colors |
| --- | --- | --- | --- | --- | --- | --- |
| | Screenprint | front | 280 mm | 280 mm | | 4 |
| | Embroidery fixed | front | 78 mm | 78 mm | | 12 |
| | Screenprint | back | 280 mm | 280 mm | | 4 |
| | Embroidery fixed | back | 78 mm | 78 mm | | 12 |
| | 3D Embroidery | front | 78 mm | 78 mm | | 1 |
| | 3D Embroidery | back | 78 mm | 78 mm | | 1 |
| | Transfer | front | 220 mm | 280 mm | | 4 |
| | Transfer | back | 220 mm | 280 mm | | 4 |
| | Digital transfer fixed | front | 220 mm | 280 mm | | full color |
| | Digital transfer fixed | back | 220 mm | 280 mm | | full color |